MS Access MCQ Questions Set 15
– Welcome to MCQSets and I believe you are finding these sets useful to prepare your competitive exams.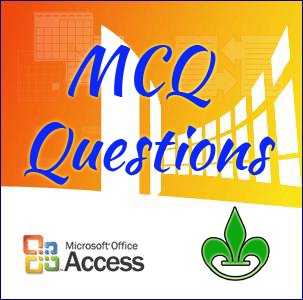 In this page I present the 15th set of MS Access MCQ Questions that contains questions from different aspects of Database Management System (DBMS) and Microsoft Access.
Enter your email address in the box provided below and start answering each question by marking the correct radio button. When you finish with all the questions, you can click 'Show Result' button to find correct answers. You'll be presented with solved multiple choice questions that marks the correct answers with green tick mark and wrong ones with red cross mark.
Hope you'll enjoy MS Access MCQ Questions Set 15
MS Access MCQ Questions
MS Access Multiple Choice Questions
Don't forget to click the Facebook Like button, Tweet or Google+ this page to show your love. It will inspire me to work even harder to present with more question.
I've tried my level best to present correct answers, however, if you encounter with any mistakes and errors, please inform in the comment box below. I'll fix the problem as soon as possible.
Thank you for taking test – MS Access MCQ Questions Set 15!