Looking for MCQ questions from HTML and Web designing? Here, I present another quiz set to let you test yourself on different aspects of the topic.
The MCQ questions from HTML are selected from basic skeleton of hyper text markup language, different tags and their attributes, general practices of using HTML to create your web document and so on.
Each MCQ questions from html has four possible options but there is one and only one correct answer. You can mark the radio button against the correct answer and click on 'Show Result' button when you finish attempting all questions.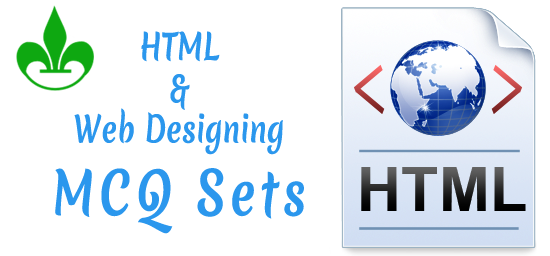 Please allow a few moments for the system to check your result and calculate ranking. Don't forget to Like in Facebook, Plus in Google or Tweet this post if you find it useful.
This MCQ questions from HTML is published in MCQSets.com
HTML MCQ Online Test – Set 03
Multiple Choice Questions from Hypertext Markup Language and Web Designing
Did you click 'Show Result' button above? Please allow a few seconds to present your result.
What was the score? Which question went wrong?
Related: MCQs Free Online Test, MCQ Questions

External Link
If you are looking for html mcq online test, W3Schools presents one such nice quiz. I guess, you'll love to try this test too!
Side Note:
Application to Create HTML Documents
HTML is a markup language, that means, we write the content along with instructions about how to present that content. Thus, an HTML document contains text, images and other objects enclosed inside the specific tags.
HTML is the language of web and the good thing is that you don't need any specific application to create them. A simple notepad is enough. The HTML document contains ASCII text and notepad can accept them very well. Just don't forget that the file extension should be .html or .htm.
Though notepad can be well used to write html documents, there are some applications to make you easier. Notepad++ is a very good free application. It recognizes the HTML language and helps you to identify syntax and structure.
Microsoft's FrontPage, Adobe's DreamWeaver are some other popular applications for web designing and creating web pages.
This html mcq online test is published in MCQSets.com
HTML Tags
Basic Elements
| | | |
| --- | --- | --- |
| Document Type | <HTML></HTML> | (beginning and end of file) |
| Title | <TITLE></TITLE> | (must be in header) |
| Header | <HEAD></HEAD> | (descriptive info, such as title) |
| Body | <BODY></BODY> | (bulk of the page) |
Structural Definitions
Heading
<H?></H?>
(the spec. defines 6 levels)
Align Heading
<H? ALIGN=LEFT|CENTER|RIGHT></H?>
Division
<DIV></DIV>
Align Division
<DIV ALIGN=LEFT|RIGHT|CENTER|JUSTIFY></DIV>
Defined Content
<SPAN></SPAN>
Block Quote
<BLOCKQUOTE></BLOCKQUOTE>
(usually indented)
Quote
<Q></Q>
(for short quotations)
Citation
<Q CITE="URL"></Q>
Emphasis
<EM></EM>
(usually displayed as italic)
Strong Emphasis
<STRONG></STRONG>
(usually displayed as bold)
Citation
<CITE></CITE>
(usually italics)
Code
<CODE></CODE>
(for source code listings)
Sample Output
<SAMP></SAMP>
Keyboard Input
<KBD></KBD>
Variable
<VAR></VAR>
Definition
<DFN></DFN>
(not widely implemented)
Author's Address
<ADDRESS></ADDRESS>
Large Font Size
<BIG></BIG>
Small Font Size
<SMALL></SMALL>
Insert
<INS></INS>
(marks additions in a new version)
Time of Change
<INS DATETIME=":::"></INS>
Comments
<INS CITE="URL"></INS>
Delete
<DEL></DEL>
(marks deletions in a new version)
Time of Change
<DEL DATETIME=":::"></DEL>
Comments
<DEL CITE="URL"></DEL>
Acronym
<ACRONYM></ACRONYM>
Abbreviation
<ABBR></ABBR>
Formatting Tags
| | | |
| --- | --- | --- |
| Bold | <B></B> | |
| Italic | <I></I> | |
| Underline | <U></U> | (not widely implemented) |
| Strikeout | <STRIKE></STRIKE> | (not widely implemented) |
| Strikeout | <S></S> | (not widely implemented) |
| Subscript | <SUB></SUB> | |
| Superscript | <SUP></SUP> | |
| Typewriter | <TT></TT> | (displays in a monospaced font) |
| Preformatted | <PRE></PRE> | (display text spacing as-is) |
| Width | <PRE WIDTH=?></PRE> | (in characters) |
| Center | <CENTER></CENTER> | (for both text and images) |
| Blinking | <BLINK></BLINK> | (the most derided tag ever) |
| Font Size | <FONT SIZE=?></FONT> | (ranges from 1-7) |
| Change Font Size | <FONT SIZE="+|-?"></FONT> | |
| Font Color | <FONT COLOR="#$$$$$$"></FONT> | |
| Select Font | <FONT FACE="***"></FONT> | |
| Point size | <FONT POINT-SIZE=?></FONT> | |
| Weight | <FONT WEIGHT=?></FONT> | |
| Base Font Size | <BASEFONT SIZE=?> | (from 1-7; default is 3) |
| Marquee | <MARQUEE></MARQUEE> | |
Positioning
Multi-Column
<MULTICOL COLS=?></MULTICOL>
Column Gutter
<MULTICOL GUTTER=?></MULTICOL>
Column Width
<MULTICOL WIDTH=?></MULTICOL>
Spacer
<SPACER>
Spacer Type
<SPACER TYPE=HORIZONTAL|VERTICAL|BLOCK>
Size
<SPACER SIZE=?>
Dimensions
<SPACER WIDTH=? HEIGHT=?>
Alignment
<SPACER ALIGN=LEFT|RIGHT|CENTER>
Layer
<LAYER></LAYER>
Name
<LAYER ID="***"></LAYER>
Location
<LAYER LEFT=? TOP=?></LAYER>
Rel. Position
<LAYER PAGEX=? PAGEY=?></LAYER>
Source File
<LAYER SRC="***"></LAYER>
Stacking
<LAYER Z-INDEX=?></LAYER>
Stack Position
<LAYER ABOVE="***" BELOW="***"></LAYER>
Dimensions
<LAYER HEIGHT=? WIDTH=?></LAYER>
Clipping Path
<LAYER CLIP=,,,></LAYER>
Visible?
<LAYER VISIBILITY=SHOW|HIDDEN|INHERIT></LAYER>
Background
<LAYER BACKGROUND="$$$$$$"></LAYER>
Color
<LAYER BGCOLOR="$$$$$$"></LAYER>
Inline Layer
<ILAYER></ILAYER>
(takes same attributes as LAYER)
Alt. Content
<NOLAYER></NOLAYER>
Links, Graphics & Sounds
Link Something
<A HREF="URL"></A>
Link to Location
<A HREF="URL#***"></A>
(if in another document)
<A HREF="#***"></A>
(if in current document)
Target Window
<A HREF="URL" TARGET="***"></A>
Action on Click
<A HREF="URL" ONCLICK="***"></A>
(Javascript)
Mouseover Action
<A HREF="URL" ONMOUSEOVER="***"></A>
(Javascript)
Mouse out Action
<A HREF="URL" ONMOUSEOUT="***"></A>
(Javascript)
Link to Email
<A HREF="mailto:@"></A>
Specify Subject
<A HREF="mailto:@?SUBJECT=***"></A>
(use a real question mark)
Define Location
<A NAME="***"></A>
Display Image
<IMG SRC="URL">
Alignment
<IMG SRC="URL" ALIGN=TOP|BOTTOM|MIDDLE|LEFT|RIGHT>
Alignment
<IMG SRC="URL" ALIGN=TEXTTOP|ABSMIDDLE|BASELINE|ABSBOTTOM>
Alternate
<IMG SRC="URL" ALT="***">
(if image not displayed)
Dimensions
<IMG SRC="URL" WIDTH=? HEIGHT=?>
(in pixels)
<IMG SRC="URL" WIDTH=% HEIGHT=%>
(as percentage of page width/height)
Border
<IMG SRC="URL" BORDER=?>
(in pixels)
Runaround Space
<IMG SRC="URL" HSPACE=? VSPACE=?>
(in pixels)
Low-Res Proxy
<IMG SRC="URL" LOWSRC="URL">
Imagemap
<IMG SRC="URL" ISMAP>
(requires a script)
Imagemap
<IMG SRC="URL" USEMAP="URL">
Movie Clip
<IMG DYNSRC="***" START="***" LOOP=?>
Background Sound
<BGSOUND SRC="***" LOOP=?|INFINITE>
Client-Side Map
<MAP NAME="***"></MAP>
(describes the map)
Map Section
<AREA SHAPE="DEFAULT|RECT|CIRCLE|POLY" COORDS=",,," HREF="URL"|NOHREF>
Client Pull
<META HTTP-EQUIV="Refresh" CONTENT="?; URL=URL">
Embed Object
<EMBED SRC="URL">
(insert object into page)
Object Size
<EMBED SRC="URL" WIDTH=? HEIGHT=?>
Object
<OBJECT></OBJECT>
Parameters
<PARAM>
Dividers
| | | |
| --- | --- | --- |
| Paragraph | <P></P> | (closing tag often unnecessary) |
| Align Text | <P ALIGN=LEFT|CENTER|RIGHT></P> | |
| Justify Text | <P ALIGN=JUSTIFY></P> | |
| Line Break | <BR> | (a single carriage return) |
| Clear Textwrap | <BR CLEAR=LEFT|RIGHT|ALL> | |
| Horizontal Rule | <HR> | |
| Alignment | <HR ALIGN=LEFT|RIGHT|CENTER> | |
| Thickness | <HR SIZE=?> | (in pixels) |
| Width | <HR WIDTH=?> | (in pixels) |
| Width Percent | <HR WIDTH="%"> | (as a percentage of page width) |
| Solid Line | <HR NOSHADE> | (without the 3D cutout look) |
| No Break | <NOBR></NOBR> | (prevents line breaks) |
| Word Break | <WBR> | (where to break a line if needed) |
Lists
| | | |
| --- | --- | --- |
| Unordered List | <UL><LI></UL> | (before each list item) |
| Compact | <UL COMPACT></UL> | |
| Bullet Type | <UL TYPE=DISC|CIRCLE|SQUARE> | (for the whole list) |
| Bullet Type | <LI TYPE=DISC|CIRCLE|SQUARE> | (this & subsequent) |
| Ordered List | <OL><LI></OL> | (before each list item) |
| Compact | <OL COMPACT></OL> | |
| Numbering Type | <OL TYPE=A|a|I|i|1> | (for the whole list) |
| Numbering Type | <LI TYPE=A|a|I|i|1> | (this & subsequent) |
| Starting Number | <OL START=?> | (for the whole list) |
| Starting Number | <LI VALUE=?> | (this & subsequent) |
| Definition List | <DL><DT><DD></DL> | (<DT>=term, <DD>=definition) |
| Compact | <DL COMPACT></DL> | |
| Menu List | <MENU><LI></MENU> | (before each list item) |
| Compact | <MENU COMPACT></MENU> | |
| Directory List | <DIR><LI></DIR> | (before each list item) |
| Compact | <DIR COMPACT></DIR> | |
Backgrounds And Colors
| | | | |
| --- | --- | --- | --- |
| Tiled Background | <BODY BACKGROUND="URL"> | | |
| Watermark | <BODY BGPROPERTIES="FIXED"> | | |
| Background Color | <BODY BGCOLOR="#$$$$$$"> | (order is red/green/blue) | |
| Text Color | <BODY TEXT="#$$$$$$"> | | |
| Link Color | <BODY LINK="#$$$$$$"> | | |
| Visited Link | <BODY VLINK="#$$$$$$"> | | |
| Active Link | <BODY ALINK="#$$$$$$"> | | |
Special Characters
| | | | |
| --- | --- | --- | --- |
| Special Character | &#?; | (where ? is the ISO 8859-1 code) | |
| < | &lt; | | |
| > | &gt; | | |
| & | &amp; | | |
| " | &quot; | | |
| Registered TM | &#174; | | |
| Registered TM | &reg; | | |
| Copyright | &#169; | | |
| Copyright | &copy; | | |
| Non-Breaking Space | &nbsp; | | |
Forms
Define Form
<FORM ACTION="URL" METHOD=GET|POST></FORM>
File Upload
<FORM ENCTYPE="multipart/form-data"></FORM>
Input Field
<INPUT TYPE="TEXT|PASSWORD|CHECKBOX|RADIO|
FILE|BUTTON|IMAGE|HIDDEN|SUBMIT|RESET">
Field Name
<INPUT NAME="***">
Field Value
<INPUT VALUE="***">
Checked?
<INPUT CHECKED>
(checkboxes and radio boxes)
Field Size
<INPUT SIZE=?>
(in characters)
Max Length
<INPUT MAXLENGTH=?>
(in characters)
Button
<BUTTON></BUTTON>
Button Name
<BUTTON NAME="***"></BUTTON>
Button Type
<BUTTON TYPE="SUBMIT|RESET|BUTTON"></BUTTON>
Default Value
<BUTTON VALUE="***"></BUTTON>
Label
<LABEL></LABEL>
Item Labelled
<LABEL FOR="***"></LABEL>
Selection List
<SELECT></SELECT>
Name of List
<SELECT NAME="***"></SELECT>
# of Options
<SELECT SIZE=?></SELECT>
Multiple Choice
<SELECT MULTIPLE>
(can select more than one)
Option
<OPTION>
(items that can be selected)
Default Option
<OPTION SELECTED>
Option Value
<OPTION VALUE="***">
Option Group
<OPTGROUP LABEL="***"></OPTGROUP>
Input Box Size
<TEXTAREA ROWS=? COLS=?></TEXTAREA>
Name of Box
<TEXTAREA NAME="***"></TEXTAREA>
Wrap Text
<TEXTAREA WRAP=OFF|HARD|SOFT></TEXTAREA>
Group elements
<FIELDSET></FIELDSET>
Legend
<LEGEND></LEGEND>
(caption for fieldsets)
Alignment
<LEGEND ALIGN="TOP|BOTTOM|LEFT|RIGHT"></LEGEND>
Tables
Define Table
<TABLE></TABLE>
Table Alignment
<TABLE ALIGN=LEFT|RIGHT|CENTER>
Table Border
<TABLE BORDER></TABLE>
(either on or off)
Table Border
<TABLE BORDER=?></TABLE>
(you can set the value)
Cell Spacing
<TABLE CELLSPACING=?>
Cell Padding
<TABLE CELLPADDING=?>
Desired Width
<TABLE WIDTH=?>
(in pixels)
Width Percent
<TABLE WIDTH=%>
(percentage of page)
Table Color
<TABLE BGCOLOR="$$$$$$"></TABLE>
Table Frame
<TABLE FRAME=VOID|ABOVE|BELOW|HSIDES|LHS|RHS|
VSIDES|BOX|BORDER></TABLE>
Table Rules
<TABLE RULES=NONE|GROUPS|ROWS|COLS|ALL></TABLE>
Border Color
<TABLE BORDERCOLOR="$$$$$$"></TABLE>
Dark Border
<TABLE BORDERCOLORDARK="$$$$$$"></TABLE>
Light Border
<TABLE BORDERCOLORLIGHT="$$$$$$"></TABLE>
Table Row
<TR></TR>
Alignment
<TR ALIGN=LEFT|RIGHT|CENTER|MIDDLE|BOTTOM>
Table Cell
<TD></TD>
(must appear within table rows)
Alignment
<TD ALIGN=LEFT|RIGHT|CENTER VALIGN=TOP|MIDDLE|BOTTOM>
No linebreaks
<TD NOWRAP>
Columns to Span
<TD COLSPAN=?>
Rows to Span
<TD ROWSPAN=?>
Desired Width
<TD WIDTH=?>
(in pixels)
Width Percent
<TD WIDTH="%">
(percentage of table)
Cell Color
<TD BGCOLOR="#$$$$$$">
Header Cell
<TH></TH>
(same as data, except bold centered)
Alignment
<TH ALIGN=LEFT|RIGHT|CENTER|MIDDLE|BOTTOM>
No Linebreaks
<TH NOWRAP>
Columns to Span
<TH COLSPAN=?>
Rows to Span
<TH ROWSPAN=?>
Desired Width
<TH WIDTH=?>
(in pixels)
Width Percent
<TH WIDTH="%">
(percentage of table)
Cell Color
<TH BGCOLOR="#$$$$$$">
Table Body
<TBODY>
Table Footer
<TFOOT></TFOOT>
(must come before THEAD>
Table Header
<THEAD></THEAD>
Table Caption
<CAPTION></CAPTION>
Alignment
<CAPTION ALIGN=TOP|BOTTOM|LEFT|RIGHT>
Column
<COL></COL>
(groups column attributes)
Columns Spanned
<COL SPAN=?></COL>
Column Width
<COL WIDTH=?></COL>
Width Percent
<COL WIDTH="%"></COL>
Group columns
<COLGROUP></COLGROUP>
(groups column structure)
Columns Spanned
<COLGROUP SPAN=?></COLGROUP>
Group Width
<COLGROUP WIDTH=?></COLGROUP>
Width Percent
<COLGROUP WIDTH="%"></COLGROUP>
Frames
Frame Document
<FRAMESET></FRAMESET>
(instead of <BODY>)
Row Heights
<FRAMESET ROWS=,,,></FRAMESET>
(pixels or %)
Row Heights
<FRAMESET ROWS=*></FRAMESET>
(* = relative size)
Column Widths
<FRAMESET COLS=,,,></FRAMESET>
(pixels or %)
Column Widths
<FRAMESET COLS=*></FRAMESET>
(* = relative size)
Borders
<FRAMESET FRAMEBORDER="yes|no"></FRAMESET>
Border Width
<FRAMESET BORDER=?></FRAMESET>
Border Color
<FRAMESET BORDERCOLOR="#$$$$$$"></FRAMESET>
Frame Spacing
<FRAMESET FRAMESPACING=?></FRAMESET>
Define Frame
<FRAME>
(contents of an individual frame)
Display Document
<FRAME SRC="URL">
Frame Name
<FRAME NAME="***"|_blank|_self|_parent|_top>
Margin Width
<FRAME MARGINWIDTH=?>
(left and right margins)
Margin Height
<FRAME MARGINHEIGHT=?>
(top and bottom margins)
Scrollbar?
<FRAME SCROLLING="YES|NO|AUTO">
Not Resizable
<FRAME NORESIZE>
Borders
<FRAME FRAMEBORDER="yes|no">
Border Color
<FRAME BORDERCOLOR="#$$$$$$">
Unframed Content
<NOFRAMES></NOFRAMES>
(for non-frames browsers)
Inline Frame
<IFRAME></IFRAME>
(takes same attributes as FRAME)
Dimensions
<IFRAME WIDTH=? HEIGHT=?></IFRAME>
Dimensions
<IFRAME WIDTH="%" HEIGHT="%"></IFRAME>
Scripts & Java
| | | |
| --- | --- | --- |
| Script | <SCRIPT></SCRIPT> | |
| Location | <SCRIPT SRC="URL"></SCRIPT> | |
| Type | <SCRIPT TYPE="***"></SCRIPT> | |
| Language | <SCRIPT LANGUAGE="***"></SCRIPT> | |
| Other Content | <NOSCRIPT></NOSCRIPT> | (if scripts not supported) |
| Applet | <APPLET></APPLET> | |
| File Name | <APPLET CODE="***"> | |
| Parameters | <APPLET PARAM NAME="***"> | |
| Location | <APPLET CODEBASE="URL"> | |
| Identifier | <APPLET NAME="***"> | (for references) |
| Alt Text | <APPLET ALT="***"> | (for non-Java browsers) |
| Alignment | <APPLET ALIGN="LEFT|RIGHT|CENTER"> | |
| Size | <APPLET WIDTH=? HEIGHT=?> | (in pixels) |
| Spacing | <APPLET HSPACE=? VSPACE=?> | (in pixels) |
| Server Script | <SERVER></SERVER> | |
Misceleneous
Comment
<!– *** –>
(not displayed by the browser)
Prologue
<!DOCTYPE HTML PUBLIC "-//W3C//DTD HTML 4.0//EN">
Searchable
<ISINDEX>
(indicates a searchable index)
Prompt
<ISINDEX PROMPT="***">
(text to prompt input)
Send Search
<A HREF="URL?***"></a>
(use a real question mark)
URL of This File
<BASE HREF="URL">
(must be in header)
Base Window Name
<BASE TARGET="***">
(must be in header)
Relationship
<LINK REV="***" REL="***" HREF="URL">
(in header)
Linked File
<LINK TYPE="***" SRC="***"></LINK>
Meta Information
<META>
(must be in header)
Style Sheets
<STYLE></STYLE>
(implementations vary)
Bidirect Off
<BDO DIR=LTR|RTL></BDO>
(for certain character sets)