400+ multiple choice questions from Microsoft Excel.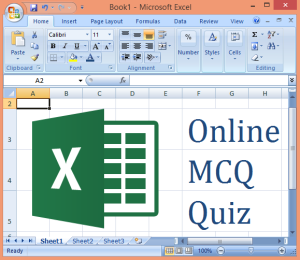 Welcome to Online MS Excel MCQ Quiz sessions. I've collected and composed more than 400 multiple choice questions from Microsoft Excel for you to practice and test yourself. I believe the posts in this series are helpful to drill and prepare your exam.
I've paid an utmost care to compose and present these questions making sure they are free from errors and mistakes. However, if you encounter any glitches in any of these MS Excel MCQ questions, please copy the question and paste it in the comment section below. Because the questions are presented randomly from the bank, simply the numbers will not help me to identify it among the 400 MCQ questions in the bank.
Enjoy MS Excel MCQ quiz set 1!
Microsoft Excel MCQ Quiz – Set 01
Related to Excel Test Multiple Choice, Multiple Choice Test Template Excel, Free Multiple Choice Test
Some Interesting Tasks with MS Excel
Completed the first set of MS Excel MCQ Quiz? Before we move on to second quiz page, let's learn a few interesting tasks that you can do with Excel. Let's have some fun!
#1. Colorful Sheet Tabs
Excel file is composed of worksheets and there is a tab at the bottom so that you can switch among the different tabs in your workbook. Do you know you can color those sheet tabs!
Coloring sheet tabs will help you to visually organize the sheets, like same color for sheets of same category; or you can do priority coloring, like green for sheets that are not yet complete, yellow for sheets that are complete but some editing and auditing is required and red color for the sheets that are finalized!
Isn't it interesting?
How to color sheets?
It's very easy. Right click on sheet tab and choose your preferred color form the 'Tab color' menu!
This MS Excel MCQ Quiz is presented in mcqsets.com
#2. Delete all formatting with one click!
Excel worksheet contain many formats. You can apply different font, size, color, border, pattern, column width, row height and many others. However, the good thing about them is that, it's really easy to remove all the formatting. It all requires is one click!
But where to click to remove all the formatting of selected range?
Click on 'Clear All' menu which you can find in Home tab >> Editing group.
#3. Get the sum with one click!
Microsoft Excel has Autosum button. You can find it at Home >> Editing group. Select the cells you need to sum then click on Autosum button.
It is also interesting to know how Autosum button behaves depending upon your selection. If you place the cell pointer at the end of your column, it will add the numbers on that column. If the cell pointer is at the end of a row, it will add up the numbers in that row. If you select a row of numbers, it will place the sum on the next cell of that row. Similarly, if you select a column of numbers, it presents the sum of those numbers on next cell in that column.
Now find what Autosum will do if you select a rectangular area of numbers, such as B5:#15? Find out and comment below.
MCQ Sets presented the online mcq quiz from Microsoft Excel
Interesting Facts about Microsoft Excel
#1. Zoom range is from 10 percent to 400 percent
#2. Each worksheet holds 1,048,576 rows
#3. Each worksheet holds 16, 384 columns
#4. You can have up to 255 data series in one chart
#5. You can undo the last 100 actions
#6. You can select 2,147,483,648 cells that are not touching
#7. You can have up to 255 arguments in a function
#8. You can nest 64 levels of functions per formula
#9. There are 1,024 global fonts available to use, 512 per worksheet
#10. You can highlight 32,767 cells per worksheet
You can find MS Excel MCQ Quiz at mcqsets.com