This is multiple choice questions bank for Microsoft PowerPoint. This bank contains questions from Presentation Systems focused on Microsoft Power Point.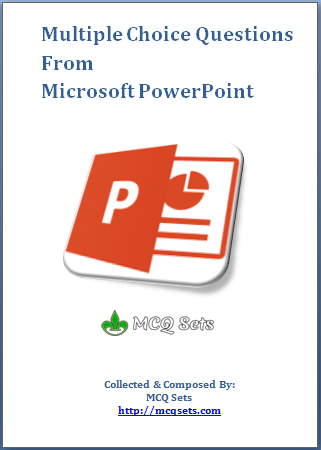 Microsoft PowerPoint MCQ Bank
Details:
Name of eBook: Microsoft PowerPoint MCQ Bank
File size: 1.09 MB
No. of Page: 24
No of Questions: 348
Questions Type: Multiple Choice Questions
Options: 4 for each question
Correct Answer: 1 and only 1 for each questions
The Presentation Systems contains different topics from Microsoft PowerPoint such as creating, opening and saving slides, formatting, slide show, animation, inserting built-in pictures, table, chart, graphs organization chart etc.
Important topics: Interface Awareness (screen elements of PowerPoint application), Menu and command options, PowerPoint views, Photo Album, placeholders, notes pane, color scheme, design templates, task pane, transition, hyperlinks, custom shows, custom animation, headers/footers, slide master, shapes, design templates etc.
Download Microsoft PowerPoint MCQ Bank
Click Facebook Like, Tweet or Google+ to display download link below:
[l2g] Click here to download [/l2g]